01 Mar

CELEBRATING 20 YEARS IN AUSSIE AG – PHOTO COMPETITION

National Grower Register is celebrating 20 years of connecting the Australian Ag industry through simple, streamlined and secure data solutions that makes doing business easier. In those two decades, we have connected with various niches and unique adaptations of farming throughout our nation. 

As part of the NGR Photo Competition, we want to highlight the varied world of Australian Ag. We would love to see what Aussie Farming involves for you, through your lens, in your pocket of the nation. From gorgeous sunsets after a long day getting ready for a grain harvest to an up-close view of growing proteins beyond traditional animal sources, we are excited to see and share your passion for being an Aussie Farmer.

Simply share your original photos that highlight what you do in the varied world of Australian Ag via Facebook or a public Instagram account and tag us @NationalGrowerRegister while using the hashtag #NGRPhotoComp in the relevant category month as listed below.

You don't need to be an NGR user, and there is no limit on the number of photos that may be entered, with 5 categories to contribute to. The categories will be:

March: Your best moment of 2021
April: Future of Ag (For under 18years old) – Show us your life as a farm kid.
May: Seasonal adaptations or measures to beat the elements in Australia's varied weather and climate
June: Use of technology innovation to support your farming efforts
July: Showcasing what you produce, eg. your crops, livestock etc

Entries will be independently judged, with prizes for each category on offer:

First place: $150 gift card;
Runner-up: $50 gift card.

These will be pre-loaded onto VISA gift cards which will be sent to each winner's nominated address, with a National Grower Register merchandise pack included.

See the Terms and Conditions below for full details.
NGR PHOTO COMPETITION Terms and Conditions
1. Terms & Conditions
1.1. The NGR Photo Competition ("Competition") is being promoted and run by National Grower Register (the "Promoter") with its registered address at Unit 5, 195-197 Hume Street, Toowoomba QLD 4350, ABN 89 095 857 266.
1.2. These Terms and Conditions govern the conduct of the Competition and entrants ("Entrant" or "you") are deemed to have read and agreed to be bound by these Terms and Conditions by agreeing to participate in the Competition.
1.3. Entry into the Competition is free (excluding internet connection charges). To participate in the Competition, share your original photos on one of the below accounts, using the hashtag #NGRPhotoComp during the Competition Period:
1.3.1. Facebook (and tagging @NationalGrowerRegister); and/or
1.3.2. Instagram (and tagging @ NationalGrowerRegister).
1.4. In the event of an entry on Instagram, only entries from public Instagram accounts that are posted (and not a story) will be eligible.
1.5. Entries cannot be modified after they have been submitted.
2. Competition details
2.1. The Competition commences at 12am on Tuesday 1 March 2022 and closes at 11.59pm on Friday 22 July 2022 ("Competition Period"). All times and dates are times and dates in Brisbane, Australia.
2.1.1 Entry into the Competition is open during the Competition Period across Australia and is:
2.1.2. Open to Australian residents; and not restricted to any age limit, except for the under 18's category of which participants must be under 18 years of age. A parent's or guardian's consent is required for participants under 18 years of age and the consenting guardian is then bound by these Terms and Conditions.
2.2. The below schedule indicates the competition category entry dates and winner announcement dates when the Promoter will announce the winner and runner-up of each category in the Competition ("Winners").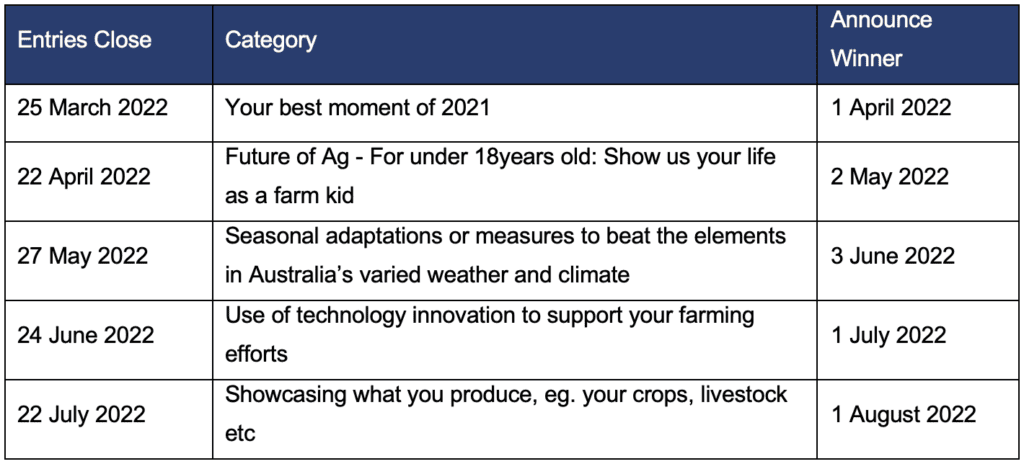 3. Submission requirements
3.1. Each entry must be original images taken by you and you must be able to prove the photo was taken by yourself if requested. You warrant that the entry does not contain or infringe on any trademarks or copyright material owned (wholly or partly) by a third party or violate any rights of privacy.
3.2. Images entered are permitted to have minor post-production adjustments, however, it is the intent that all images should maintain the integrity of the original image. Permitted editing includes minor adjustments to colour, sharpness, tone, contrast, shadow and highlights, cropping, noise, dodging, burning and the removal of minor distractions. Entrants are only permitted to use techniques where two or more exposures are captured and merged to form a single image only when all exposures are taken in the same location and time. This includes focus staking, HDR images and stitched panoramas. Any other composite images are not permitted.
3.3. You must have the permission of all individuals in each photograph before it is uploaded and you are responsible for determining the appropriate permissions or releases for your entries.
3.4. In submitting your entry, you consent to the publication of your name and photo entry on the Promoter's website and/or social media pages.
3.5. Each entrant will be responsible for complying with the terms of use of the relevant social media platform. The Promoter reserves the right to disqualify any entrant submitting an entry which, in its opinion, includes objectionable content (including but not limited to profanity, nudity, potentially insulting, discriminatory, unlawful, infringing, hateful, pornographic or sexually suggestive photos, scandalous, inflammatory or defamatory images).
3.6. Entries that are found to breach these Terms and Conditions will be considered invalid. If you have been awarded a prize, that prize must be returned to the Promoter. The Promoter in its sole discretion may disqualify any entrant who the Promoter has reason to believe has breached these Terms and Conditions or engaged in any unlawful activity or other improper misconduct that jeopardises the fair and proper conduct of the Competition. The Promoter reserves its legal rights to recover damages or other compensation against you for any breach.
3.7. In participating in the Competition, the Winners agree to co-operate in all editorial and media/PR activities relating to the Competition, including any interviews or photographs. The Winners authorise the Promoter to use such footage and photographs together with their names, voices, videos, image and likeness for advertising and publicity purposes in any media in perpetuity worldwide without additional compensation or further reference to them.
4. Assessing entries and prizes
4.1. All valid entries received during the Competition Period will be judged on their merit, which may include (and will not be limited to) the consideration of:
4.1.1. originality;
4.1.2. technical excellence;
4.1.3. composition;
4.1.4. artistic merit; and
4.1.5. relevance to the Australian Agricultural Industry and/or the community, as determined by representatives of National Grower Register.
4.2. The Promoter's decision is final and it reserves the right not to provide any explanation for the award of prizes for the Competition. No correspondence will be entered into resulting the outcome.
4.3. Winners will receive a direct message on their Instagram or Facebook accounts (whichever is used for their entry into the Competition) from the Promoter notifying them that they have won a prize and to provide relevant details to claim that prize. If a Winner does not respond within 2 business days of receiving a direct message, or provide all relevant details required, the Promoter reserves the right to withdraw the award of that prize and to award it to another entrant.
4.4. There will be two (2) prizes for each category of the Competition:
4.4.1. First place: pre-loaded VISA gift card valued at $150 and a National Grower Register merchandise pack;
4.4.2. Runner-Up:pre-loaded VISA gift card valued at $50 and a National Grower Register merchandise pack;
4.5. The prize will be sent to the Winners' nominated address (within Australia only).
5. Rights
5.1. All entries become the property of the Promoter. As a condition of entering the Competition and acceptance of any prize, you agree:
5.1.1. to assign all copyrights or other intellectual property rights in and to their entry and any related content to the Promoter;
5.1.2. that the Promoter has an irrevocable, transferrable and unrestricted right to use your entry in connection with the Promoter's business without the payment of any compensation;
5.1.3. to provide or execute any documentation the Promoter requires to give effect to this arrangement; and
5.1.4. to provide consent to any use of your entry which may otherwise infringe your moral rights pursuant to the Copyright Act 1968 (Cth).
5.2. If for any reason whatsoever beyond the reasonable control of the Promoter, the Competition is not capable of being conducted as reasonably anticipated, including due to tampering, unauthorised intervention, fraud or any other causes beyond the control of the Promoter, the Promoter reserves the right to, in its sole discretion, suspend, modify, or terminate this Competition and/or to disqualify any entrant who tampers with, or is suspected of tampering with, the Competition.
5.3. To the extent permitted by law, you agree to indemnify the Promoter for, and to release and forever discharge the Promoter (including its officers, employees and agents) from and against any and all claims, demands, liability, damages or causes of action, and any loss or damage (including, but not limited to, indirect or consequential loss) or for any personal injury or damage to property (third party or otherwise) suffered or sustained in connection with the Competition, publication of entries on its website or social media channels in accordance with these Terms and Conditions, or the award or acceptance of any prize/s.
5.4. If the prize comes with guarantees from the prize provider that cannot be excluded under the Australian Consumer Law and those guarantees are not complied with, then you will have rights under the Australian Consumer Law.
5.5. You consent to the Promoter collecting your personal data in the course of the Competition and that the Promoter may use your personal data disclosed for the purposes of running this Competition, including by disclosing your personal data to its related bodies corporate (as defined in the Corporations Act 2001 (Cth)). The Promoter will handle all entrants' personal data in accordance with the Privacy Policy ("Privacy Policy") which can be found at ngr.com.au (updated from time to time). Without limiting the rights and obligations in the Privacy Policy, you may request access to or a correction of your personal data if you believe it to be incorrect. Please contact the Promoter by email on support@ngr.com.au if you have further questions in this regard.
5.6. The collection of your personal data for the purpose of this competition is being undertaken by the Promoter, not by Facebook or Instagram. Data provided by you will be utilised for the execution of the competition by the Promoter and will not be shared with any third parties or platforms.
5.7. The Terms and Conditions are governed by the laws of Queensland, Australia. Each entrant irrevocably agrees that the courts of Queensland shall have exclusive jurisdiction over any action, proceedings or disputes which may arise out of or in connection with the Competition or these Terms and Conditions.
5.8. In the event that an entrant awarded a prize is subsequently disqualified, and the visa gift card is spent by the entrant prior to the disqualification, restitution to the Promoter will be required. Details of a bank account for direct deposit of funds to the equivalent value of the visa gift card will be provided to the disqualified entrant by the Promoter.
6. Disclaimer
6.1. The Promoter and the Entrants agree to a complete release of Facebook and/or Instagram by each Entrant or participant and acknowledge that the promotion is in no way sponsored, endorsed, administered, or associated with Facebook, Instagram or Visa.
6.2. Use of Gift Cards is subject to Visas Gift Card Terms and Conditions.
6.3. We are not liable for the goods or services you purchase with our Gift Cards. Any purchase made with a participating retailer constitutes a transaction between you as the holder of the Gift Card and the relevant retailer. You acknowledge and agree that we are not a party to that transaction and is not in any way responsible or liable in relation to that transaction. Any dispute about goods or services purchased with a Gift Card must be resolved with the retailer.
Our team are available for support and can be reached on 1800 556 630 or via emailing admin@ngr.com.au.