12 Oct

It's here! Welcoming the new and improved Commodity Vendor Declaration to the eDOCS suite
Introducing the CVD Trade to Trade eDOC now available within myNGR
Following an extensive consultation with many stakeholders, that shared their valuable time and knowledge with us, a further enhanced Commodity Vendor Declaration (CVD) eDOC that is even better for the whole industry, is now available via myNGR.
With the CVD enhancements now available in eDOCS we have prepared a range of short videos to help those throughout the supply chain to understand this revolutionary process better and to embrace this electronic form as part of day-to-day business admin.
Five things to know about the CVD Process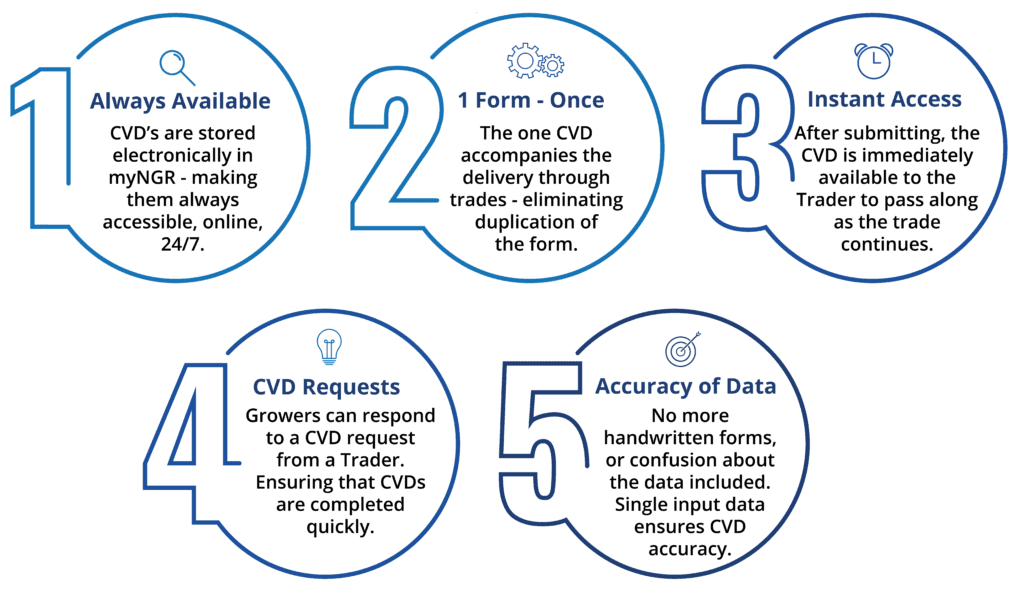 Getting started with the CVD Trade to Trade eDOC
Anyone in the trade chain can initiate the CVD process by logging into the myNGR online portal, clicking on the CVD Trade to Trade in the eDOCS list and following the steps to request/complete a CVD.
A CVD can then be transferred between trade parties for completion as relevant.
Once completed, all parties in the trade will be notified with the CVD instantly available through the myNGR system.
As all CVD eDOCS are stored indefinitely within myNGR, this eliminates the need for printing, filing or handling paperwork. Enabling all CVD information to electronically flow from you the Grower, through Traders and on to the commodity end-user with no hassle or complications. Saving time, stress and ensuring accuracy.
We are excited to have delivered another eDOCS solution to the industry and look forward to seeing many users integrate this form into their business operations during Harvest this year.
If you're ready to get started with using eDOCS and the Commodity Vendor Declaration, please get in touch with the team by contacting support@ngr.com.au or calling the Service Centre on 1800 556 630.